What Should Women Wear This Autumn

Discover the newest 2023 fall women's fashion trends. Learn about the essentials you need for this fall's fashion and comfort, including stylish boots, chic outerwear, and cozy knits.
It's time to update your wardrobe for the autumn season as the leaves start to change and the air becomes crisp. Fall is a fun season for fashion lovers since there is such a lovely variety of designs, colors, and textures to select from. In this comprehensive guide, we'll look thoroughly into the top women's fashion trends for fall 2023 to help you stay warm and fashionable as the weather turns chilly. From vibrant outerwear to thick knit sweaters and high-waisted jeans, you may adjust your appearance for the season.
Cozy knits and sweaters
Sweaters are required for fall wear.Spend money on a variety of knits, including cardigans, turtlenecks, and voluminous cable knit sweaters.These clothes are not only fashionable but also perfect for layering on chilly days.
Over sized sweaters
For fall, oversized sweaters are a need.They are the ideal footwear to wear with skinny jeans or leggings because they have a comfortable, casual style.Don't be afraid to use different textures for greater visual interest.
Turtleneck sweaters
Warmth and style are emitted from turtleneck sweaters. They may be dressed up with skirts or down with jeans because to their adaptability. Consider making a statement with bright color or versatile neutral.
Embrace faux leather and leather 
It's time to embrace the appeal of fashion items made of leather and imitation leather this fall. These time-honored materials are making a strong comeback, and they add a touch of sophistic-ation and edge to your ensemble.
Leather jackets with a classy look
This season, the leather jacket, a classic piece of clothing, is regaining popularity. A classic leather jacket is a wise fashion investment because it adds edginess to your ensembles without much effort. Whether you prefer the rebellious biker appearance or a more refined, fitted shape, a leather jacket is a daring statement piece that can significantly improve your sense of style. It will look great paired with your favourite jeans and boots for an autumn-appropriate outfit.
Using Leather Pants to Make a Statement
If you want to make a daring fashion statement this fall, you absolutely must have a pair of leather pants in your wardrobe.They may be paired with both fancy and casual shirts with ease and exude confidence. Leather pants offer a slick and fashionable look that is ideal for a night out on the town or a relaxed supper with friends when worn with a simple shirt. Think of leather pants as your go-to option this season if you want to make a strong and fashionable statement.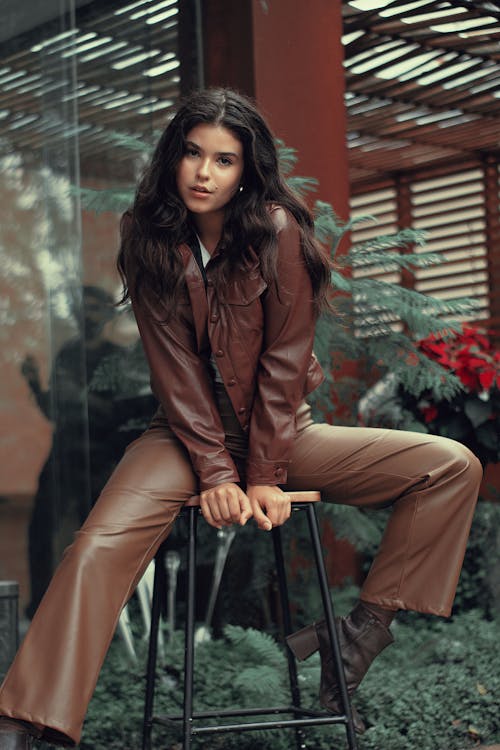 Effortless Elegance Dresses
When it comes to autumnal wear, dresses offer an excellent blend of elegance and comfort. Midi and maxi dresses are taking center stage this season. They skillfully produce a chic and carefree image that is ideal for autumn.
Versatile midi dresses
Dresses are a versatile option for the fall, and the season's standout style is the midi dress. These dresses are the perfect option for the season because they have a variety of patterns, from floral to plaid, and rich jewel tones. Knee-high boots and a warm sweater go perfectly with midi dresses to create a chic and carefree combination. It's a comfortable yet fashionable attire that works for many seasonal occasions.
Maxi Dresses for Boho Chic
Maxi dresses are your secret weapon if you're inclined to the boho look. Maxi dresses are not only comfortable but also work well in changing weather. Incorporate a bold belt and ankle boots into your maxi dress for that effortlessly cool boho look. This clothing is a perfect choice for your autumnal activities because it is both stylish and incred-ibly wam.
Outerwear with a Statement
Trench Coats for Classic Style
This fall, trench coats—those ageless classics—are more relevant than ever. A classic trench coat is a sensible investment because it can be easily layered over a variety of clothes and gives your appearance an air of timelessness and refinement. A well-fitted trench coat is the height of refinement and will keep you warm and fashionable whether you're going to the office or a special function.
Denim Jacket Over Dresses
A stylish idea to give your midi dresses some edge is to layer a denim jacket over them. Both more informal and formal occasions can use this combo.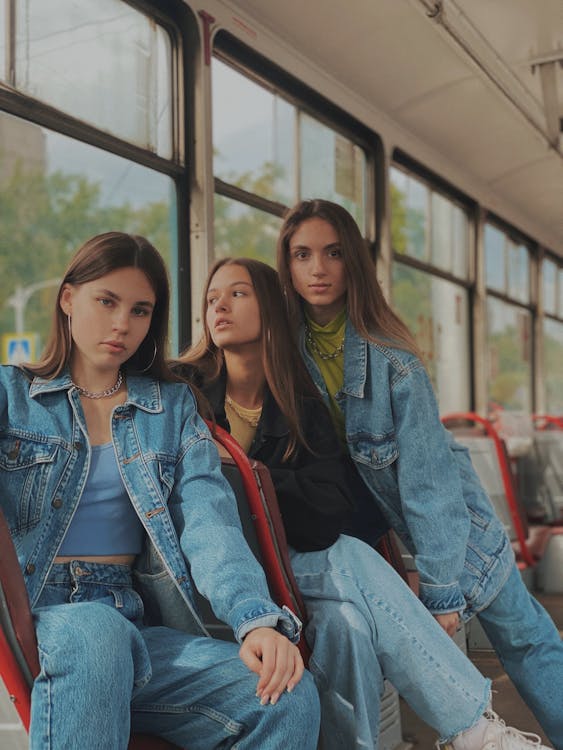 High-Waisted Jeans for a Flattering Fit
Skinny Jeans for a Sleek Look
For autumn, high-waisted skinny jeans are a must have.They not only enhance your appearance but also keep you warm when the weather gets colder. For a stylish and snug ensemble that's ideal for laid back outings or nice nights in, pair them with chunky knit sweaters. Skinny jeans may be dressed up or down to fit any occasion, making them highly flexible.
Wide-Leg Jeans for a Trendy Look
This season, wide-leg jeans are also fashionable.
They provide a stylish, roomy fit that goes with both casual and dressier attire.  Wide-leg jeans can be worn with heels or ankle boots to create a stylish autumn style that is both casual and elegant. Never be hesitant to try out different styles and washes when looking for the perfect pair for your collection.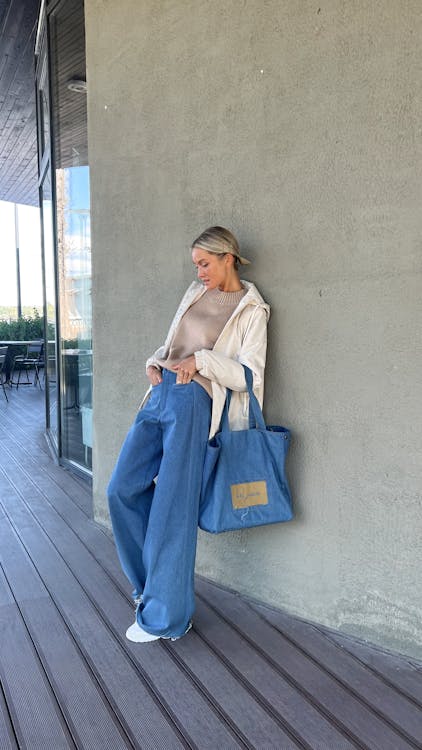 Autumn Footwear
To finish your outfit, you must switch to autumnal footwear. This year, comfort and style are prioritized.  
Classic Ankle Boots
Every fall outfit needs boots, especially knee-high and ankle boots. Choose timeless black or brown leather ankle boots that go well with a variety of outfits. For a varied and fashionable style, wear them with jeans, skirts, or dresses.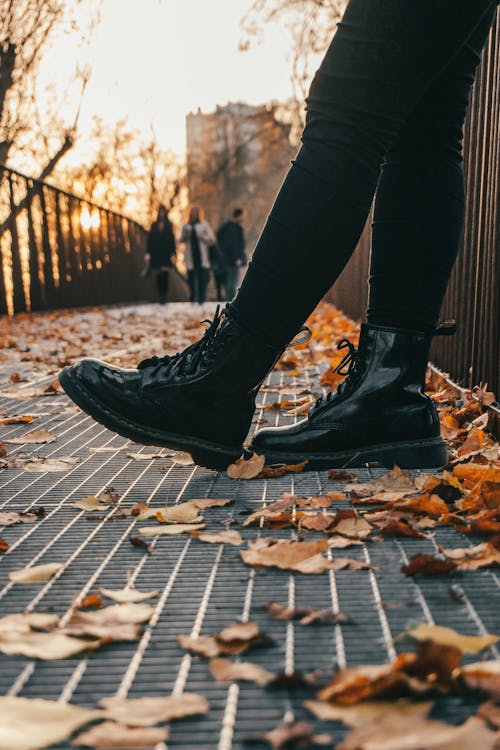 Trendy sneakers
Consider sneakers with distinctive designs or high-top versions for a more relaxed and comfy option. They are perfect for adding an urban edge to your fall wardrobe.
Accessorize for autumn
The finishing touch to every outfit, accessories can make or break your appearance this fall.
scarves and shawls
Rich autumnal-hued scarves and shawls will keep you toasty. These goods not only keep you warm but also provide your clothing a splash of color.
Statement Jewelry
Vintage sparklers, or statement jewelry items like big necklaces or eye-catching earrings, will elevate your look. They have the power to suddenly turn a plain outfit into a fashion statement.
Oversized tote bags
Oversized totes are ideal for transporting all of your necessities and are both practical and fashionable. To keep on trend with the season, look for purses made of textured materials or earthy tones.
Conclusion
In conclusion, fall 2023 will deliver a variety of fashion trends that blend ease and style, letting you express your personality via your wardrobe. There is something for everyone this fall, whether you choose warm knits, edgy leather pieces, or chic dresses. You can build a lovely and adaptable fall outfit that keeps you warm and stylish with the appropriate accessories and footwear. Utilize these fashionable autumnal basics to embrace the change of the seasons and boost your personal style.