Versatile Yoga Clothes for Workouts and On-the-Go

Yoga suits can not only be worn during your yoga practice but also on many different occasions. In the past years, activewear in general has become part of many women's daily wear, as they are really comfortable pieces and for example, will give you a range of movement that most denim jeans won't.
Nowadays, yoga sets are pieces that are not only comfortable and functional so you can wear them at the gym or the yoga studio but also at the streets. There are many occasions where you can wear them and we want to share them with you.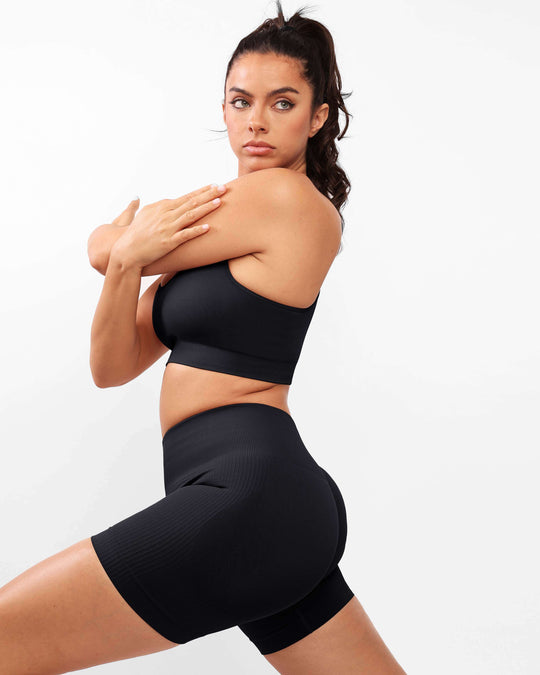 AirWear Sports Bra & Bike Shorts Set
On what occasions can you wear yoga suits?
One of the first occasions you can wear activewear is for sure at the gym or the yoga studio. In the end, they were created for these settings. You can pair your favorite set or pick your favorite separate pieces and put up a great outfit, that must include the most amazing sports shoes too.
Another great occasion is at school. Yes, not only for sports class but for normal class, you can wear your favorite high waisted leggings, with an oversized sweatshirt or even an oversize t-shirt or a crop top too. Always, remember to follow your own school dress code, so you don't have to end up being sent back home.
Some sports tops or sports bras can be great parts of an outfit to just go out with your friends, you can match them with jeans and a denim jacket, an oversized open shirt, or even under a colorful blazer.
 And finally, for those who are always on the go, running errands, and want to be always comfortable during all these long days, simply pick your favorite leggings or shorts, depending on the season, your favorite and most comfortable sneakers and your sports bra or a sports top, depending on the season, you can also add a light jacket.
Where can you get them?
One of the best places that you can find the most comfortable pieces is Cosmolle, an activewear brand that is sustainable and eco-friendly, as well as inclusive and supportive of body positivity.
Their activewear pieces are made with high-quality materials, that are also sustainable, which makes them long-lasting and durable but also very comfortable and have a buttery soft feeling. They are also manufactured under sustainable processes, like 3D printing that is don't only generate less waste but is also energy efficient too.
Our top 4 recommendations
The first piece from Cosmolle is the AirWear Long Sleeve & High-Waist Legging Set. It will feel like a second skin, as it is made with an eco-friendly and comfy fabric made with recycled nylon. To offer you support for your workouts it has a light-impact design. The leggings have edge-bonded panels, no front seam to prevent camel toe, and a ruched seam to enhance your butt curves.  The top has a classic scoop neckline and thumbholes that were designed to keep the sleeves in place.
 AirWear Long Sleeve & High-Waist Legging Set
We also have the Move Free Knot Short Sleeve Top. This top is made of soft, eco-friendly fabric, and has a very flattering and chic design. It is very versatile for those who live an active lifestyle. It offers internal chest support and also has fingerless gloves to allow flexibility.
 Move Free Knot Long Sleeve Top
 Another piece is the Premium Seamless Crossover Leggings. These high-waisted leggings are made with seamless fabric and provide lifting and sculpting abilities. They don't have a front seam and prevent camel toe. The legs and glute areas have contouring panels and the butt area has a V-back scrunch seam that will enhance your curves.  
Premium Seamless Crossover Leggings
And finally, the Premium Seamless High Neck Tank Top. It has a double-layered design that offers full coverage for added support. It is made with eco-friendly fabrics made of recycled textiles. This fabric also offers seamless compression to provide flexibility and support. The bust area has removable cup pads an offers light shock absorption and bust support too.