Cosmolle's Summer Sale Is Too Good to Miss

We all love a good sale, and whoever says they don't they are either too rich to mind or they are probably lying. Sales are always a great way to save some money on items that we had been eyeing for a while but couldn't afford at a specific moment in time. This is why people go wild during sales.
And there is one sale that I highly recommend you take advantage of Cosmolle's summer sale, which is a great summer clearance sale and now also has amazing activewear pieces with even better prices.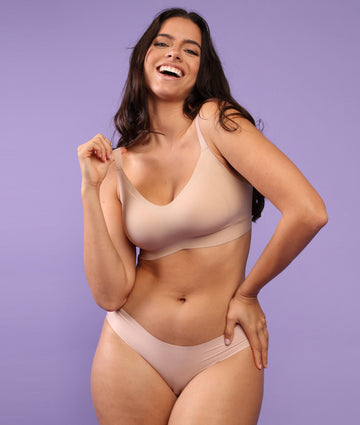 Everyday Comfort So Obsessed Wireless Bra
What's the importance of bras and underwear?
Bras and underwear are pieces that whether we want them or not, they are pieces that are must-haves for us women.  They are the main pieces of our outfits. Even if they go underneath our outfits, we do have to wear them.
There are many reasons why we should wear underwear and bras. They protect our clothing from secretions of our body, they also lower the risk of infections, and some even eliminate chaffing, depending on the material they are made from they keep your lady parts dry, no matter if you are going about your day or actually working out.
In some cases, underwear will prevent genital acne and they will also help improve and boost your self-esteem. And of course, they are great to secure menstrual products. And if we want to refer to bras, having great best support is crucial. When your bra has the right size, it will not only keep your breast in place, but will also reduce discomfort, stress, and irritation.
Why should you get Cosmolle's underwear and bras?
They are really the most comfortable pieces you'll find in the market, and they also have amazing skincare benefits that will give your skin a great treatment. One of their main products is the most comfortable wireless bra. They are always going to be items that we need. Why not take the chance to buy them when they are on sale?
Bras are seamless, 3D printed, breathable, and made with collagen-infused fibers that will provide skincare benefits to your skin and most importantly, wire-free, which makes them really the most comfortable pieces. Yes, I won't stop mentioning it, because they are.
AirWear Wireless 3D Enhance Bra
The brand understands that no matter if we mention it or not, we want comfort, and that's the reason, that we take our bras off as soon as we get home. The feeling of freedom feels amazing, but Cosmolle wants you to enjoy wearing your bra so much, that you wear it as much as possible, and that you don't have to take it off as soon as you put a foot inside your house.
Is Cosmolle's lingerie a great gift option?
The answer to that question is yes. While these are items, we tend to buy for ourselves, they also make a great option as a gift. It is always a great idea to gift comfort to the people you love the most. It could be your family members or it can also be one of your best friends, while saving some money in the process.
When there are pieces like the ones from Cosmolle, which are made with the highest quality and best materials, that actually are also eco-friendly and sustainable too, are also extremely comfortable, why would you keep the secret to yourself?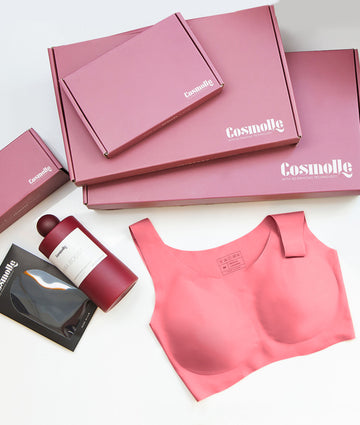 Premium Limited Edition Bra Gift Box
They offer a big variety of comfortable bra styles for you to choose from, and the pieces can be even worn as lovely tops if you want to. They will be comfortable, and stylish and will provide the support your breast needs all the time.
Cosmolle even has a limited-edition bra gift box that offers a bra, a laundry bag, and even 50ml laundry liquid. The bra is made of breathable material, which is collagen, amino acids, and antioxidants rich and will improve the elasticity of your skin, it will also reduce the signs of age and will keep it hydrated and cool too.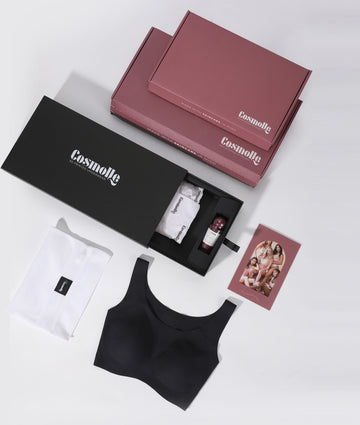 Premium Limited Edition Bra Gift Box
The bra is also wireless and provides support but won't ever be constricting, it doesn't have seams, or hardware, and has breathable cups too. The fabric won't lose shape as it is stretchy. And it will be so soft that it will feel like a second skin. 
Activewear is on sale too!
Good news for those who love activewear… Cosmolle's summer activewear sale also worth looking forward to . You will be able to find some sets, leggings, and even a body suit.
They have great discounts on these pieces and you will be missing a chance to get activewear pieces at great pieces, especially if what you are looking for is starting a healthier lifestyle which includes working out.
But if you are just one of those who love looking at people who work out from afar, but love what they are wearing and how comfortable it looks… Once again, this is your chance to get the most comfortable activewear pieces at the best prices you can find around.
Seamless Acid Wash Gym Shorts Set
There are styles for everyone to choose from, and with the prices, you can also buy some of them to mix and match, so you can work out with the most comfortable pieces or just lounge or work from home with them. You won't regret getting them at all.
As you can see, there are many reasons why I'm loving Cosmolle's summer clearance sale. Who doesn't love getting comfortable intimates at the best prices,  which makes this sale an amazing opportunity. They will be great options to gift yourself, your family members, or even your friends.
But besides that, you can get activewear pieces too to start your healthier life and exercise with the most comfortable sets and pieces around.  The real question here is, what are you waiting for to take advantage of this amazing sale? If I were you, I wouldn't miss out on them, in fact, I'm already adding my favorite pieces to the shopping cart!