3 Assumptions When Choosing Bra & Underwear That Are Worth Every Penny

Although underwear remains invisible for most of the day, it contributes greatly to a woman's well-being and self-confidence. In the morning, underwear is the first thing you look for, and the rest of the day, women's underwear is the first layer after the skin that envelops your body.
There is a countless selection of women's underwear for every occasion. Don't underestimate the power of well-fitting underwear, self-confidence has never been easier. Below we will bring tips on how to find comfortable underwear.
When it comes to comfortable underwear for women, the variety to choose from is plentiful, but not all underwear is right for you. We are sure to help you find the underwear that will not only work for you, but will also give you confidence to face your days.
To help you find the perfect underwear for you, we recommend that you consider the following assumptions when shopping for women's underwear:
Comfortable fit
Perfect fit
Good quality fabric
In the next readings below, we explain what exactly you need to search for and try to find in the mentioned criteria.
Comfortable fit
No matter how pretty your underwear is, if it doesn't fit you properly, it's sure to bother you all day, it can quickly turn into something you hate. So make sure the adjustable strap sports bra is comfortable against your skin. If you don't have an adjustable strap, you will feel uncomfortable and it will show.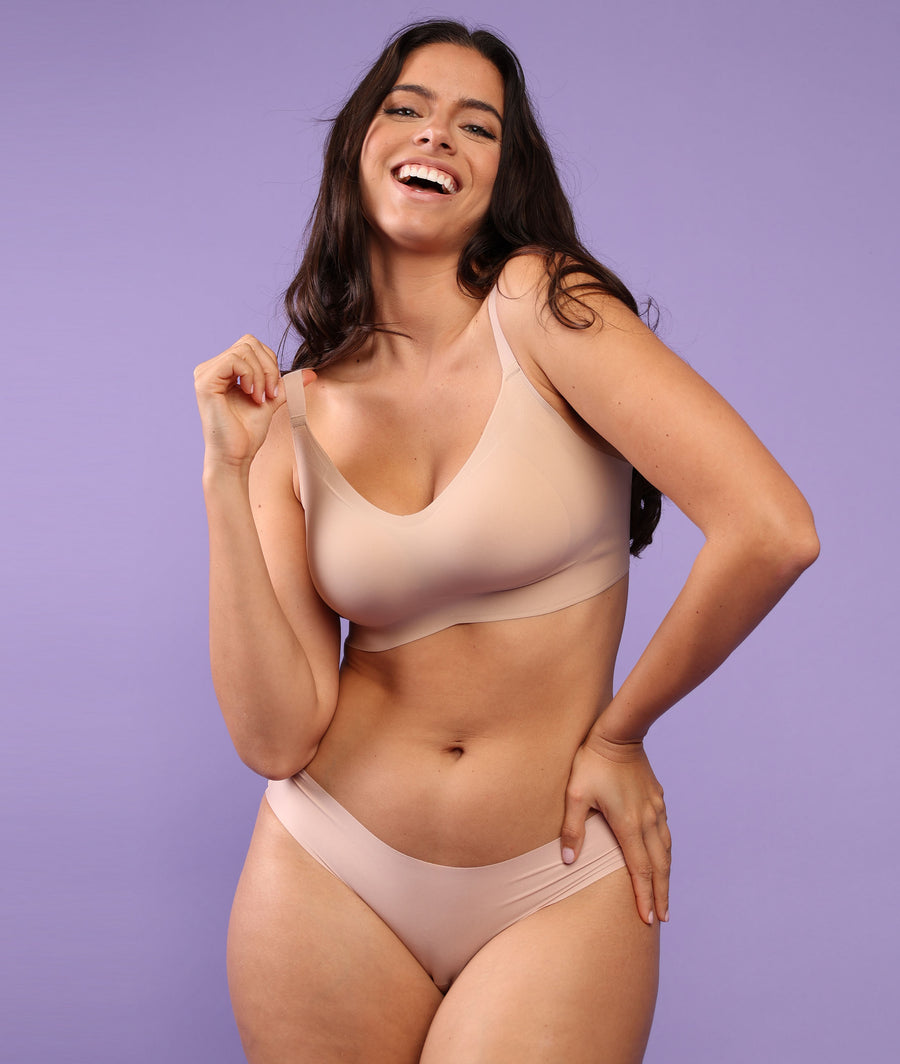 Perfect fit
Your underwear must be the right size. Especially with bras, this is extremely important. Once you've found the perfect fit for you, you'll no longer understand how you've been living in the wrong sizes for all these years.
 Quality fabric
Every body is different. Different body types require different underwear. Look for underwear that flatters your figure, that fabric enhances your body. Self-confidence and a greater sense of well-being are then pre-programmed.
How can I tell one size of underwear is right for me?
The correct size of underwear will help you feel comfortable and without a doubt, you will save time without having to change it. Finding the right size might seem a little difficult for you and me, but with a few simple tips, you can overcome this challenge.
The bra fits correctly when:
The bust part where the bra fits snugly around the breast bone.
When the entire chest fits and nothing falls from the right or left.
The bra cup does not protrude and does not form a double breast.
The bra circumference is not too tight or too loose.
Bra straps do not tighten and are not too loose
Panties fit properly when:
Panties do not mark the body, you feel free
The panties hug your feminine curves.
You think you're not wearing underwear, you're so free. Because they fit perfectly and become one with your skin.
As always, proof of something is crucial for us to test. To find the right size in underwear, you need to experiment and see which one will be perfect for you. But don't worry, the time invested will be worth it. Because with your underwear that conforms to your body, it makes you feel comfortable and confident.