Find Trendy Workout Clothes to Boost Your Confidence

"Uncover chic workout attire that enhances your self-assurance and productivity. Examine chic alternatives for activewear, such as the long sleeve legging set and different yoga suit. Wearing stylish yet cozy clothing will elevate your fitness journey."
Fitness has become a top priority in today's fast-paced world, and that means wearing fashionable yet comfortable clothing when working out. Gym attire used to be strictly functional, but these days it can also be a fashion statement that expresses a person's personality and gives them more self-confidence. This article delves into the significance of fashionable exercise attire and how it can boost your self-esteem, motivating you to embrace your fitness journey with flair and style.
Comfort and Performance
It is impossible to exaggerate the significance of cozy yet functional sportswear like the trending long sleeve legging set  in the ever-changing world of fitness. Contemporary exercise apparel is made with cutting-edge materials and technology, painstakingly planned to maximize comfort and improve performance. Beyond the essentials, these clothes provide features that let you concentrate fully on your workouts, which will ultimately increase your self-confidence.
The emphasis on comfort and functionality in trendy workout apparel is one of its main characteristics. These cleverly designed yoga suit are made of specialized fabrics that effectively wick away perspiration, keeping you dry and comfortable during your workout. They are incredibly flexible, enabling unhindered movement, and they offer enough ventilation to avoid overheating. These sportswear items free you up to focus on your exercise regimen and boost your confidence while you give it your all. They also remove the need for frequent adjustments.
Premium Seamless Ribbed Short Set
One particularly noteworthy piece of activewear that prioritizes comfort without sacrificing style is the Premium Seamless Ribbed Short Set. Its silky fabric and ribbed texture give it a plush, second-skin feel that makes moving easy. This yoga suit guarantees a tight fit while also keeping you comfortable, so you can concentrate fully on your exercise. Its smooth design boosts your self-assurance and motivates you to push your boundaries without hindrance.
AirWear Long Sleeve & High-Waist Legging Set
The pinnacle of activewear design is the AirWear Long Sleeve & High-Waist Legging Set, which provides unparalleled comfort and breathability. This long sleeve legging set redefines your workout experience; it's perfect for yoga suits and other fitness activities because it's specifically made for maximum airflow. Because of its clever ventilation and lightweight fabric construction, this set keeps you cool and comfortable even during the most intense training sessions.
The High-Waist Leggings and the AirWear Long Sleeve Top, designed with the active person in mind, guarantee outstanding performance at every exercise. The long sleeve top's unique ventilation system ensures cool airflow, improving your comfort level and enabling you to take on difficult workouts with unwavering resolve.
Whether you're doing yoga classes or other fitness routines, this well-thought-out long sleeve legging set is more than just activewear—it's a performance-enhancing outfit made to support you in achieving your fitness goals. Modern materials, flexibility, and sweat-wicking qualities combine to enhance your training experience and give you more self-assurance. Your confidence soars and you can perform at your best during yoga sessions or any fitness activity when your activewear feels breathable and comfortable.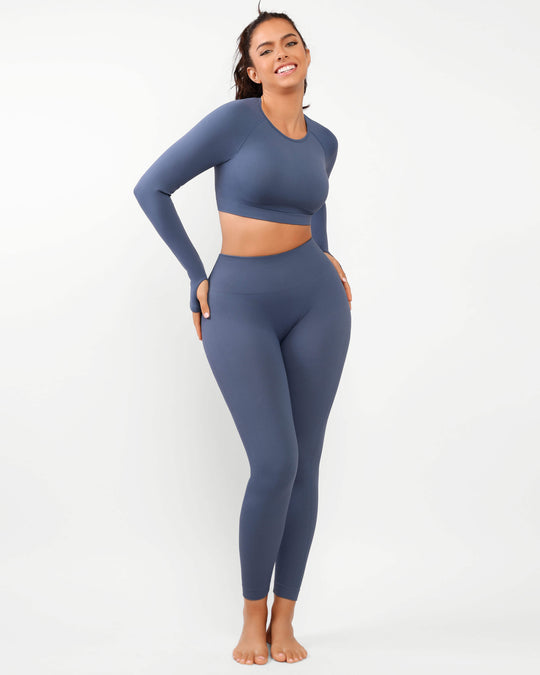 Fashionable Designs
Workout wear, like long sleeve legging set which comes in a wide variety of colors, hues, and patterns are trending. The possibilities are almost endless, regardless of your preference for subdued neutrals or striking prints. With so much choice, people can select activewear that complements their unique style and body type, which boosts their self-esteem and motivation for workouts or fitness courses. The strength of stylish designs resides in their capacity to accommodate personal tastes, giving the wearer a sense of comfort, self-assurance, and readiness to take on any fitness task. The fitness fashion scene has been completely transformed by trendy.
Seamless Acid Wash Gym Shorts Set
The Seamless Acid Wash Gym Shorts Set is proof that activewear can have daring fashion choices. Designed for individuals who want to turn heads when they work out, this yoga suit has an acid wash look that gives the ensemble a stylish edge. Selecting athletic apparel that complements your individual style turns it into a way to express yourself. Wearing something like the Seamless Acid Wash Gym Shorts Set exudes confidence in addition to making a statement. Activewear is a powerful tool for self-confidence and individuality, and these pieces allow you to show off your personality and motivation to the world.
Motivation and Self-expression
Fashionable exercise yoga suit acts as a blank canvas on which to paint your individuality and drive. Activewear becomes a reflection of your individual style and goals, whether it is adorned with empowering slogans, inspirational quotes, or your favorite colors and patterns. Beyond just being a fashion statement, this kind of self-expression can be a strong source of inspiration, serving as a constant reminder of your fitness objectives and inspiring unwavering dedication to your fitness journey. Wearing long sleeve legging set that speaks to your inner motivation strengthens your resolve and helps you stay motivated and concentrated on reaching your goals.
Charm Crossed Long Sleeve Top
The Charm Crossed Long Sleeve Top offers a stylish design and a flattering fit, combining fashion and functionality with ease. Its distinctive charm-crossed detailing elevates your workout attire while also enhancing your silhouette. Your confidence naturally soars when you feel polished and elegant. This confidence boost turns into a driving force that inspires you to perform at your highest level during each workout. The Charm Crossed Long Sleeve Top's combination of comfort and style improves your whole workout and gives you the confidence and poise to work out.
Built-In Thong Soft Smoothing Legging:
Designed to fit perfectly, the Built-In Thong Soft Smoothing Legging gives you confidence and support during your most strenuous workouts. You can concentrate fully on your workouts without any interruptions thanks to its integrated thong feature, which guarantees there are no visible panty lines. Your perspective changes when you are pleased with how you look when you pair it with long sleeve like long sleeve legging set. You look and feel great, so you can focus your energy on reaching your fitness objectives. These leggings' perfect fit and support boost your self-esteem and give you the confidence and willpower to take on difficult workouts.
Versatility and Everyday Wear
Activewear has become part of everyday fashion, transcending its traditional boundaries in the modern fitness landscape. Contemporary sportswear isn't just for the gym; it fits well with many aspects of your everyday routine. Modern exercise attire has evolved into adaptable fashion statements that enable users to put together chic looks for a variety of settings. Those who purchase yoga suit that combines style and utility can proudly wear their fitness gear outside of the gym, demonstrating their dedication to leading a healthy lifestyle.
Seamless Half Zip Long Sleeve Top 
The seamless half-zip long sleeve top is the definition of adaptability—it transitions seamlessly from demanding workouts to laid-back gatherings. Its seamless construction guarantees the utmost in comfort, and the half-zip feature allows for customized ventilation adjustments. You project confidence in any situation when you're comfortable and adaptable in your sportswear. This self-assurance enables you to face obstacles head-on, whether you're working out or going to a laid-back social gathering.
The Seamless Tie-Dye Sports Shorts Set gives your workout attire a burst of color. Its whimsical tie-dye designs add a pop of color, uplift your spirits, and boost your self-esteem. Activewear that is vibrant and eye-catching creates a good vibe and inspires motivation. This positive environment gives you the motivation to approach your workouts with zeal and determination and serves as the ideal backdrop for pursuing and reaching your fitness goals.
Basically, if people embrace the adaptability of stylish athletic wear, they can easily pair their activewear with regular clothes. Pieces such as the Seamless Half Zip long sleeve legging set  are versatile, and sets like the Seamless Tie-Dye Sports Shorts Set are colorful and boost self-esteem. People who exude passion and dress in activewear that befits their commitment can move with assurance through different environments, representing a dynamic and health-conscious way of living.