Activewear Pieces We're Loving for Summer & Beyond

There shouldn't be an excuse for you to not work out during summer. Yes, even if the weather is much hotter or the sun shines more than ever. Being fit and having a healthier lifestyle should be something you do all year round. Besides, if you work out or exercise in a gym, they tend to have air conditioners and you won't feel the warmth from outside. For sure it will be important that you wear yoga suits or activewear that won't make you feel like you are in a sauna, and that will keep you dry, cool, and fresh during your workouts. It is always important to find the right activewear pieces for summer, but that will be great additions to your closet and will work the rest of the year too.
Why you should choose Cosmolle?
Cosmolle is a brand and its mission is to empower people, especially women, through fashion that is sustainable. For them, they want to help the environment while making everyone feel and look good. And besides that, for them, fashion should be accessible and affordable for everyone, without losing style. While sustainability is the core of everything they do, they have very important values too, like inclusivity and body positivity. They create pieces, like the activewear bodysuit, that have high quality and are made with high-quality materials and fabrics, that will last a long time and hold up during any activity. They support and give back to their community, support their workers too, and believe in fair trade. There are so many reasons why they are a great option as a brand and why they have the best activewear that you will be loving, not only during summer but the rest of the year.
Technology and sustainability
For them, being sustainable and using innovative technologies go hand in hand. As they are a sustainable brand, they not only use materials, that are sustainable like their collagen polyamide yarn, but their manufacturing processes are also sustainable and energy efficient.
Fish scales that are recycled from fisheries, and then these scales go through an intense purification round and chemical process, which will transform them into the fabric of choice, which is collagen polyamide yarn.
This is a biomimetic fiber that has a unique and also permanent collagen coating. Then they will weave this collagen-infused yarn into fabrics and then 3D print them to be more energy efficient and to get smoother lines. Their 3D printing technology uses 3D printers that will glue, the inner and outer fabrics of each product, using printing graphics that were carefully designed and with the needed thickness.
This process makes their bras are very breathable, as the glue creates a specific space between the fabrics, allowing your skin to breathe freely, and preventing rashes. It also replaces seams and traditional stitching so you can get the best comfort.
The adhesive will also allow the fabric to stretch with no deformations. And also, this technology produces minimal waste and is energy efficient.
Will their activewear be perfect for every season?
Yes! Whatever you choose from their range will not only be perfect for one specific season but for each and every one of them. They will not only be comfortable but also will keep you cool and dry. And depending on the style you choose, even a little bit warm during the colder seasons.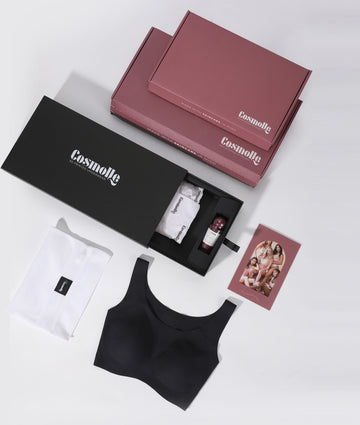 Premium Limited Edition Bra Gift Box
As they have many styles, you can choose the best ones for a specific season, like for example, shorts and sports bras during summer, or long sleeve ones and leggings for colder months. In many cases, you will be able to use the ones, that you bought for summer during winter, by layering them with other pieces.
You definitely won't regret choosing their pieces as your first choice of activewear. They will be the most comfortable ones you have ever worn and will allow you to work out being focused on what matters and not having to fix your clothes every five seconds. And you will also be looking stylish and with the most confidence you'll ever have.
Pieces you'll love
These are the pieces from Cosmolle that we know you'll be loving not only during summer but also beyond.
First, we have the Seamless Acid Wash Gym Shorts Set. This set was shaped and designed to stay put during every movement and to hug your curves too. It will allow you to move in every direction, bend and also stretch. The fabric is lightweight and also will feel buttery soft. It goes through a process of sanding and washing which ends up in very stylish and sexy pieces. And finally, the back has a peach buttock design that will highlight your curves and a mild tummy control design, that will make your waist firmer and with a better shape.
Seamless Acid Wash Gym Shorts Set
Don't miss the Premium Seamless Ribbed Short Set. Made with an eco-friendly seamless and 4-way stretch fabric, offers this set offers light to medium support, that you can wear not only on the streets but at the gym or yoga studio. The shorts are high-waisted, don't have a front seam, and prevent camel toes, and the back, has a V scrunch seam that enhances the butt curves. They have glute and leg contouring panels and the bra has removable cups.
Premium Seamless Ribbed Short Set
And finally, there's the Seamless Crop Tank & Short Set. This is another set that is made with an eco-friendly seamless and 4-way stretch fabric. You can wear them at the yoga studio or at the street as it offers light to medium support. The bra has removable cups, while the shorts are high-waisted. The leg and glute areas have contouring panels, preventing camel toe as they don't have a front seam, and the back will have your curves enhanced, as it has a V scrunch seam.
Seamless Crop Tank & Short Set