Help Order queries
The item I am looking to purchase is out of stock, when will it be back in?
Simple. If you enter your email address in the area provided on the product page and press 'Notify Me,' you will receive and email when the item is back in stock(please see example below):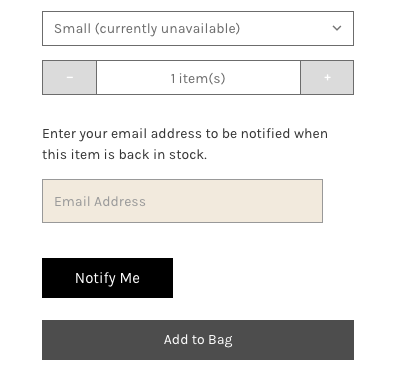 Do I need an account to place an order?
You don't. If you are in a hurry, you can just add in your email address and check out as a Guest. However, if you would like to keep track of your order history, plus hear the latest on Cosmolle offers and news - we'd suggest creating an account.
Can I cancel or change my order?
Due to the quick turnaround of our warehouse, 99% of the time we are unable to amend or cancel orders once they have been placed. This is because once placed the order information is sent over to our warehouse straight away (and we can't access this here at Cosmolle headquarters).
If you have placed an order by mistake or if there is a part of your order you would like to return, you can use our free returns service, and we can either exchange or refund your order as requested.
If I buy multiple items, will everything come packaged together?
This depends on how many items you buy, but we do our very best to package everything together to increase efficiency, avoid excess packaging and reduce environmental impact. If you want to know exactly how your specific order will come packaged, just get in touch with our Customer Collective. You can contact the team via email (support@cosmolle.com), through our Live Chat on the website (Monday-Friday, 10am-5pm GMT) and on Cosmolle Facebook Messenger
Need further help?
Contact us through our live chat (Monday-Friday, 10am-5pm GMT) or with the following options: